UPDATE 09-01-2021
What is normal anymore? At least we are back to filing MAKE SAFE permits in-person at MSB, which, as shown in the timeline of this article, is subject to change. The issued permit will be available for download through eCLIPSE. However, any stamped plans must be picked up in person at MSB. In addition, any L&I stamped documentation and plans are required for inspections. At Philly Kelsey & Co, we provide same-day courier services to any Philadelphia address, including the project site, which we will coordinate directly with the contractor performing the work.
You'll need to schedule an appointment with MSB using their online QLess system here. Choose Permit With Plans > Apply for Permit With Plans > Select day & time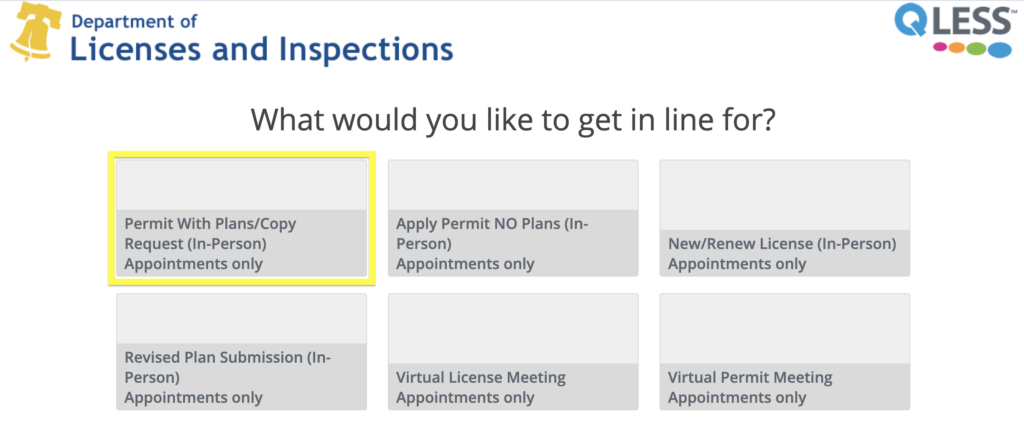 THE MAKE SAFE APPLICATION
Fill out and print this application (only 1 copy is needed).
In the field "Description of Work" write in "MAKE SAFE to [remediate or partially remediate] [violation number]".
NOTE: More complex projects often require multiple MAKE SAFE permits for the purpose of insurance claims and multiple contracting companies being involved in the project. Remember to ask for the permit application number before turning it over at the permit desk. At Philly Kelsey & Co, we make scanned copies of this application using a phone app after the L&I personnel completes intake.
DOCUMENTS THAT GO WITH THE APPLICATION
You'll need to provide:
3 PRINTED copies of the plans (18″x24″)
3 PRINTED copies of the PA-licensed engineer's report (8.5″x11″)*
3 PRINTED copies of each photo taken that encapsulates the area cited in violation for being structurally unsafe.
*L&I may waive the requirement of hiring an engineer for minor repairs, but the applicant must fully describe remediation in a formal letter (and yes, 3 PRINTED copies).
A licensed contractor must be named on the initial submission due to the prioritized 5-business day timetable for L&I to review and respond. DO NOT SUBMIT YOUR APPLICATION until you have verified that the contractor you have hired is licensed and provides a valid Tax Clearance Certificate. It is easiest for the contractor to provide this themselves, since the contractor's SSN may be required, but anyone can pull a Certificate with the required account numbers. You can also contact the Tax Clearance Unit directly following the instructions in this link.
We hope this information helps our community get through the permitting process. If you are unable to file this permit physically, you can hire Philly Kelsey & Co to do it for you!
UPDATE 03-24-2021
Just when we thought the process of applying for permits to repair UNSAFE and Imminently Dangerous (ID) buildings in Philadelphia County was smoothing out, L&I changed the process, again. "Make Safe" is a type of building permit application and the only permit type that can be filed when a building is cited as a public safety hazard whether it's due to neglect, vandalism, or an act of God.
You won't be able to file a permit for a property that has been tagged in violation for UNSAFE or ID conditions through eCLIPSE. You can open the application draft, but if the property address has been issued a violation by a field inspector for UNSAFE or ID, red text will appear on the screen and prevent you from continuing the application process. We can still file permits in-person at MSB by appointment but staff are aggressively pushing for this process to happen remotely.
MSB doesn't want you in person and you can't file using eCLIPSE.
HOW TO FILE A MAKE SAFE PERMIT MARCH 2021
Email [removed for confidentiality purposes] your (1) building permit application in PDF form, (2) the owner remediation plan or structural engineer report, and (3) the construction drawings that show existing and proposed. Gross Floor Area (GFA) must not change from what is deeded or previously legalized. For any GFA change, applicants are required to get zoning approval before L&I plans examiners will review the pending Make Safe Application. For example, the removal of a falling porch overhang will trigger a zoning permit requirement that must be issued within 60 days from the last Request For Information (RFI). Consistent with most L&I permitting protocol, any additional requirements not resolved within that timeframe will result in cancelation of the pending Make Safe permit application and all project documents previously submitted to L&I will be erased.
*Application protocol and requirements may vary from project to project. The established pattern for changes in filing procedure specific to Make Safe Permits is quarterly.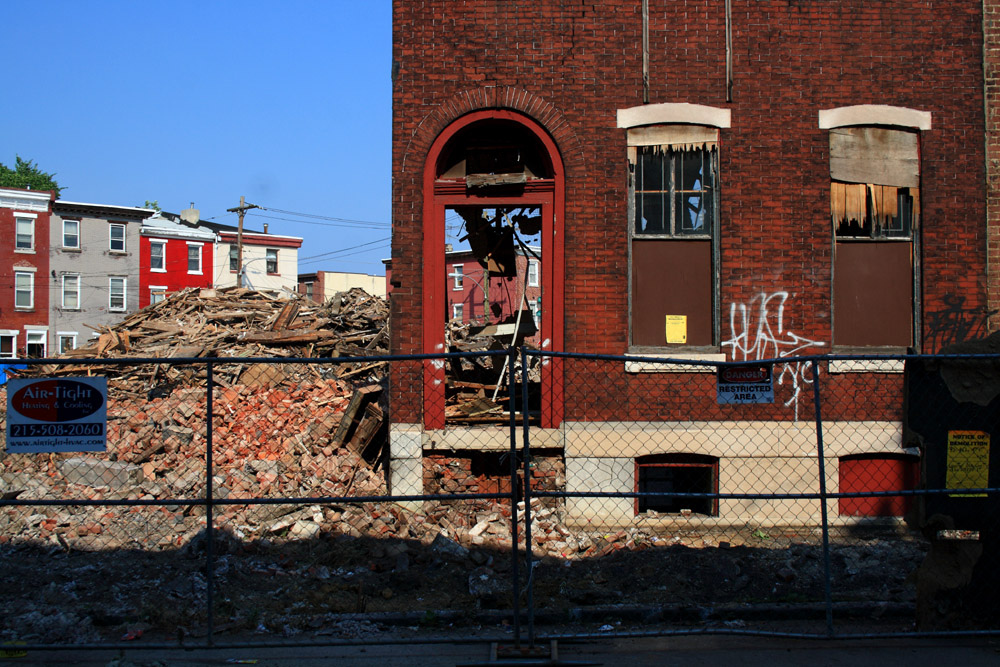 UPDATE 10-20-2020
We are now at L&I by appointment 2-3 times a week consistently. L&I protocol for any building that is tagged UNSAFE or ID (Imminently Dangerous), a Make Safe Permit or Demolition Permit MUST be submitted in paper following standard submission procedures, meaning, 3 copies of the architectural plans. This permitting process is still clunky, but the information provided in this article will help you navigate the new protocols and identify a realistic construction start date once the Make Safe permit is issued.
Appointments are ALWAYS on time, so arrive early. You'll have to show your ID upon entering the building, sign in, and then check-in again when you arrive at L&I Customer Care (where you would normally get a ticket).
The QLess Appointment Software will text you the station # and the Intake personnel will call your name.
After you leave L&I, here's what to expect next as the Primary Applicant:
1-2 Days: Make Safe Permit application will appear on all eCLIPSE accounts.
2-10 Days: Applicant will receive an email from the examiner like any paper submission with an RFI letter. The letter will indicate two resubmission options: through eCLIPSE or in paper form.
DO NOT submit anything through the permit record on eCLIPSE. Keep all additional items in paper form, meaning, you must schedule an appointment to bring the RFI package to the "Drop Box" at MSB. Log your drop off time as normal on the sign-in sheet, and take a photo to confirm time of resubmission. Application packages do get lost, so this is your EZ Pass ticket to get your case escalated if the examiner doesn't respond within 10 days.
If you decide to submit the additional documents or revised plans through eCLIPSE, be prepared to resubmit all forms on eCLIPSE as well. It's one of the other – you cannot have documents split between paper and digital copies. Therefore, if you accidentally start using eCLIPSE mid-way through, expect the process to take 3-4x longer to reach permit approval verses submitting in paper form the whole way through.
---
UPDATE 07-28-2020
For a 3 week period starting early July, we were getting appointments 3x week using a Calendly© scheduler.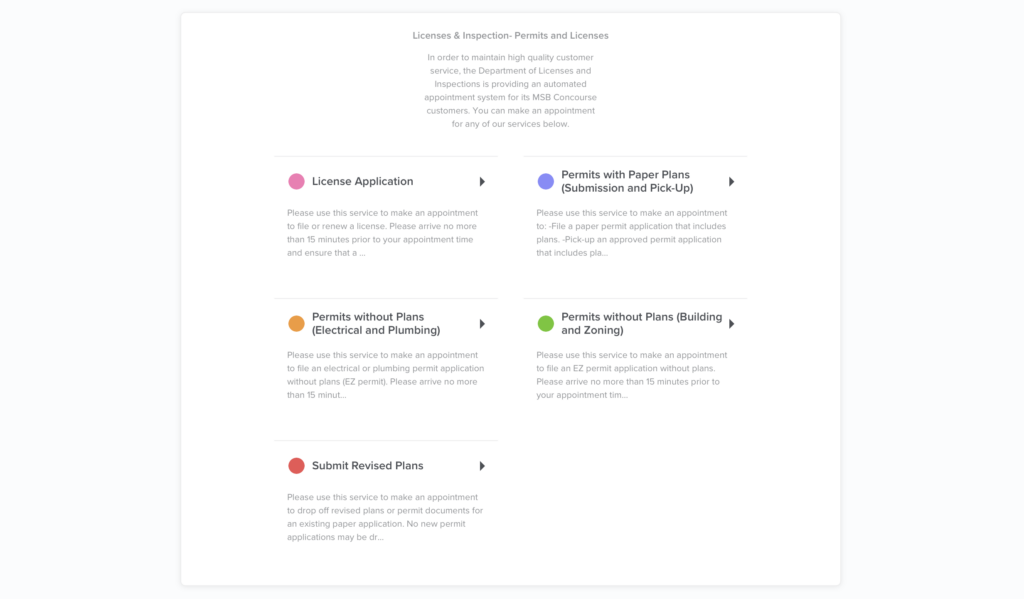 Hindsight 20/20, this was a test. Today, outside of Make Safe Appointments, they are no longer offering in-person appointments for General Construction Permits. The most concrete direction we have obtained is to schedule an appointment with the L&I department supervisor. If you have an "in" take it. There are no other options at this time unless you hire our firm to submit on your behalf… or wait.
---
06-30-2020
Hot off the press! This information isn't posted anywhere so listen up. Make Safe appointments WERE being handled out of the North Central District at 1512-14 Cecil B. Moore Ave. But as of… today… The former employee handling appointments is no longer scheduling them and all MAKE SAFE permit applications are being handled out of MSB.
As of June 22nd, employees returned to MSB on a staggered schedule.
On June 29th, MSB opened to the General Public BY APPT ONLY.
As of June 30th, the original appointment form posted across city websites has been taken down. We submitted a request last week using the form and haven't received a single response. And as of now…. looks like there is no way to make an appointment.
Make Safe permits are for buildings that inspectors have deemed dangerous and have been cited as such. As of right now, there is no way for anyone to legalize the construction to ensure these dangerous properties don't collapse on neighboring buildings and any person walking by structurally unsafe properties.
If you notice a building falling down, please take a picture immediately and submit as PUBLIC to Philly 311 using the website or mobile app. The city's Master Demolition Program may or may not be operating but as citizens, we at least have a place to check sightings so we may avoid it as necessary.
Website: https://www.phila.gov/311/form/Pages/default.aspx
Android: https://play.google.com/store/apps/details…
iOS: https://apps.apple.com/us/app/philly-311/id533292779
We'll update as soon as we have info on how the city wants us to proceed with filing a Make Safe permit.