& how to do your part:

At Philly Kelsey & Co, we directly engage with all professionals on the job before submitting a construction permit application in Philadelphia County. Since January 2020, our firm has completed 120 permit projects and 23 active projects, defined as the time between filing and issuance (Source: Trello).
We see the same issue over and over – compliance, insurance, & other paperwork issues. Philly is now enforcing all subcontractors to be named for all commercial permits (including a residential triplex) – your call to action. More entities on the permit; more eCLIPSE issues; and unfortunately, more delays. January 2021, we implemented a substantial operational change in order to better reflect the pattern of change we experience approximately every 3 months.
Any professional named on the permit could be the culprit of permit delay. Taking 15 minutes to review these 3 easy curated steps will really help accelerate the permitting process.
Now, let's get started!
You will feel confident about eCLIPSE because you've done your part.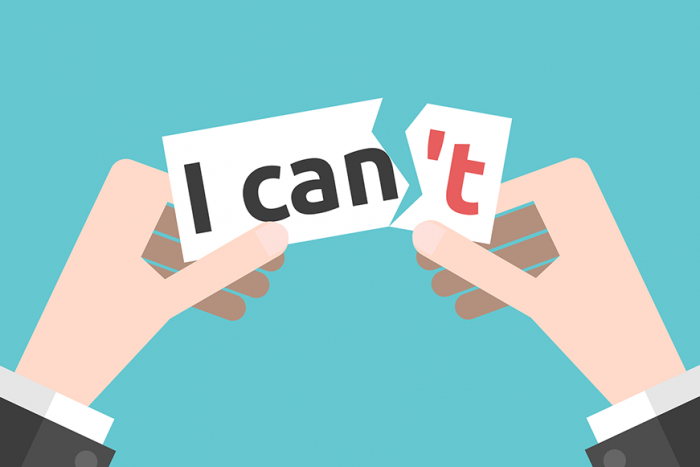 Tax & License Compliance Is On Everyone
It is imperative to set permit process expectations and enforce all compliance responsibilities upfront with anyone hired and named on the permit. Better yet, share this article. Until now, we've reserved this type of direction exclusively for our clients. Now that we have enough data to support our findings, this URL can be shared as part of the hiring process.
If the contractor cannot do this independently, contractors can hire our firm to resolve most paperwork issues using this mobile-friendly form also found online at https://phillykelsey.co/get-started/. L&I will not issue a permit unless all measures of compliance have been met.

L&I uses specific terminology to indicate permit status that will appear on the eCLIPSE permit application for all named contractors. Stakeholders can track progress and search by permit number using L&I's Permit Tracker. Definitions of what each status means can be found here.
What Causes Permit Delay?
Most delays occur when the application reaches the Permit Issuance Unit. "HOLDS EXIST" is often directly related to compliance actions that the contractor (i.e., Expediter, General Contractor, Design Professional, etc.) will need to take before L&I will issue the permit. We've seen delays at a minimum of 2 weeks, sometimes up to 7 weeks, and if not cleared by 60 days, L&I will cancel the application entirely unless an extension is requested by the primary applicant – and then after, restart.

Fortunately, you can eliminate most delays by obtaining a Tax Clearance Certificate upon hire and confirming that each contractor's eCLIPSE account is functioning correctly – as per steps listed in this article.
Once the permit is filed, check that the owner can access the permit through eCLIPSE and obtain confirmation that all contractors have successfully verified their association to the pending permit.
Step-By-Step eCLIPSE Application Prep 101
Each step is color-coded to match the supporting graphic below.
1) Double check that your "profile" is registered with a mailing address and selected as "primary."
On the top navigation bar of the page, click the button that says "Profile." Under the section heading "MY INFORMATION," click the gray box containing the name and other contact information. Under the section heading "MAILING ADDRESSES," if there isn't an address, add one. The page will automatically refresh and the address will now appear. Click the little box next to this address to designate it as "primary." Click "Save."
2) Verify that your Philadelphia Tax Account is connected.
On the home screen, about mid-way down, there is a gray band of tabs. Click on the tab that says "My Activity Licenses." If nothing is there, you must associate your Commercial Activity License by clicking the blue hyperlink on the home page "Associate an Activity License." Be prepared to enter your 7-digit Philadelphia Tax ID # and either your SSN or EIN. If you are the sole member of an LLC, instructions are to use your SSN. If you are a sole member LLC that has been in business for several years in Philadelphia, email revenue@phila.gov to confirm that your SSN is on record as primary. You can check your account information by logging into Philadelphia's Department of Revenue's eWork portal. This extra step in advance of associating your CAL will avoid tax compliance issues related to incomplete paperwork and a whole lot of time!
3) Make sure that L&I has your trade license or professional registration on file.
Go back to the same gray band of tabs in Step 2. Click on the tab that says "Trade Licenses" or "My Registrations." If you are a design professional or attorney, your license will be located under "My Registrations." If nothing is there, click the blue hyperlink on the home page "Apply for a Registration." If you are a contractor and have not registered locally with Philadelphia, find the bolded section Trade Licenses and click "Apply for a Trade License." Even if you are a PA Registered Home Improvement Contractor, you are still required to register your license in order to be named on permits. eCLIPSE registration is mandatory. You will be prompted to upload each applicable license certification document and insurances which you can find online at Phila.gov/Li.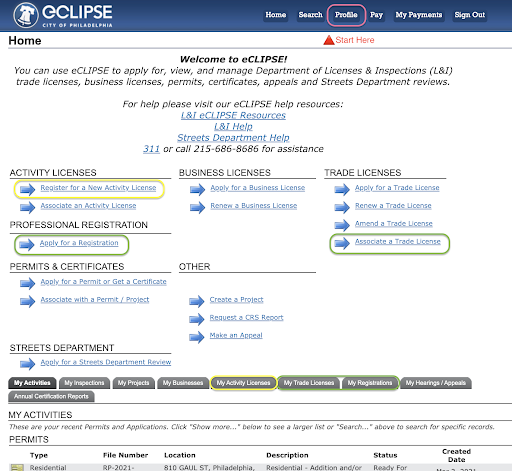 If you have something to add, we'd love to hear from you! Please email us at support@phillykelsey.co so we may update our content.